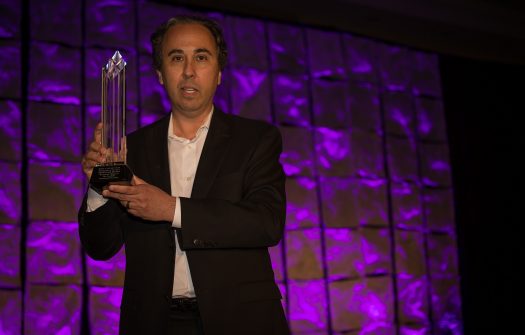 Scottsdale-based, Rosewood Homes was the recipient of 5-prestigious MAME Awards bestowed by the Homebuilders Association of Central Arizona at its annual homebuilding industry awards competition held Saturday May 21st at the JW Marriott in Phoenix. These awards, presented to the best in homebuilding in Metro Phoenix, included the first ever "Rising Star of the Year" Award created by the Homebuilders Association "to recognize innovators in its class that exhibit key ingredients of insight, inspiration and innovation. The recipient of this award symbolizes a person or product that inspires our industry to change and become better at what we do." Rosewood Homes received this prestigious honor for its innovative Rosewood Village neighborhood located in the heart of the Foothills Master Plan Community in Phoenix. According to Founder, David Kitnick, "this unique gated neighborhood provides a remarkable sense of place with a wonderful combination of thoughtful land planning, engineering, architecture and lush landscaping while providing mountain views from virtually all of the 59-well-detailed homes priced from the $300's to $400's".
Rosewood also received the 1st ever MAME Award for "Best Social Media Campaign" for Rosewood's new "Rosewood Village at The Foothills" video. This award-winning video was created by two recent ASU graduates from the Herberger School of Film, Ben Kitnick and Saxon Richardson. This short, thematic video showcases Rosewood Village while Rosewood homeowners describe what it's like living in their unique neighborhood. The Rosewood Village video can be viewed on "You Tube" at the following link: https://youtu.be/xx4kutcD7BQ
Rosewood Homes also received two MAME Awards for "Best Interior Merchandising for homes priced between $275,001 to $350,000" for one of Rosewood's model homes at Rosewood Village and for "Best Interior Merchandising for homes priced over $650,000" for Rosewood's model home at its Sierra Boulders neighborhood in Scottsdale. Rosewood also received a MAME Award for "Best Magazine Ad" for an ad published in Architectural Digest featuring Rosewood's new Sierra Highlands neighborhood in Scottsdale.
In addition to Rosewood's actively-selling Rosewood Village and Sierra Highlands neighborhoods, Rosewood is also under development with two additional uniquely-designed neighborhoods in the Southeast Valley: Rosewood Grove and Rosewood Canyon Estates. Rosewood Canyon Estates will feature a private gated enclave of 40-well detailed homes surrounded by "open space" at the base of South Mountain in the Ahwatukee Foothills with pricing from the $400's while Rosewood Grove features a lushly landscaped, gated neighborhood with 53-architecturally authentic homes near Power Ranch with most homes fronting onto one of the neighborhood parks or backing to a landscaped open space area.
Rosewood's mission is to provide industry leading customer satisfaction, quality and design in a few exclusive neighborhoods each year in Metro Phoenix. Rosewood's 5-person senior management team has over 150-combined years of successful homebuilding experience including Rosewood being the recipient of dozens of industry awards for construction quality, customer satisfaction, product design, land planning, marketing and merchandising including being the only 4-time winner of the prestigious Eliant Homebuyers Choice Award for providing the "Best Overall Purchase & Ownership Experience" in North America.