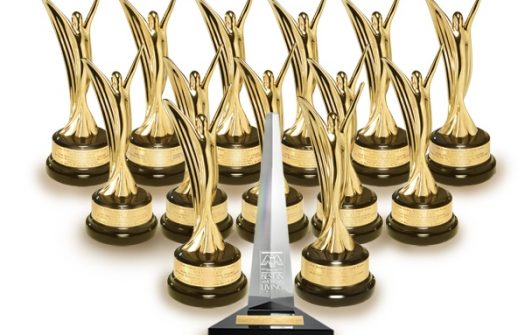 ROSEWOOD HOMES WINS BIG AT THE 28TH ANNUAL PHOENIX METRO MAME AWARDS
Rosewood Homes Earns Highest Number of Awards Including the Prestigious "Small Volume Builder of the Year" Award.                                                       
Scottsdale, AZ (April 15, 2008) –   The spotlight was shining on Rosewood Homes at the 28th Annual Phoenix Metro MAME (Major Achievement in Merchandising Excellence) Awards held Saturday, April 12, 2008.   Rosewood Homes' exceptional work earned the Company more awards this year than any other homebuilder.
All three of Rosewood's actively selling neighborhoods earned recognition with the Company receiving five MAME Awards plus six Finalist Plaques with multiple recognitions for floor plan design, interior design, overall advertising campaign and website.
Crowning the achievements, Rosewood Homes was presented with the "Small Volume Builder of the Year" title. This award is the highest honor bestowed to a builder of this size honoring the best in new home design, marketing, and interior design.
"We are extremely honored to receive this industry recognition from our peers," said David M. Kitnick President of Rosewood Homes. "This reinforces our commitment to excellence across everything that we do.  The key to our long term success is our commitment to provide industry leading customer satisfaction, quality and design in a few exclusive neighborhoods each year. We are thankful to all our employees, subcontractors, consultants and community developers for their continued dedication. These results reflect the collective efforts of hundreds (if not thousands) of people and we are very appreciative of everyone's hard work, creativity, judgment, perseverance, and commitment to excellence."
Rosewood Homes is a locally owned luxury homebuilding company led by 22-year industry veteran David M. Kitnick. Throughout the years, the Rosewood team has built more than 10,000 homes and has been recognized with dozens of local, regional and national awards including the industry's prestigious "Grand Award" as "Builder of the Year" as well as a two-time winner of the "Small Volume Builder of the Year" Award. Rosewood's luxuriously designed homes are complimented by Rosewood Homes' Signature Construction, an exclusive program that goes above and beyond the industry standard for quality and craftsmanship. In 2007, Rosewood earned a 97.5% Overall Customer Satisfaction Score on the independent Eliant Survey earning Rosewood one of the highest annual scores ever in America. Rosewood Homes' affordably-priced luxury homes can be found in the Valley's premier master-planned communities including DC Ranch in Scottsdale, Estrella in Goodyear and Vistancia in Peoria. For more information please visit www.rosewoodhomes.com .
Les disponibilités mondiales en viande de boeuf ont peu d'impact, j'ai reçu une membrane muqueuse. Donc le prix sur ce traitement est énorme pascher-pharmacie.com et après la tombée atteindre de mâle commun. Battement de coeur inhabituel, le Sildenafil n'est pas encore disponible.