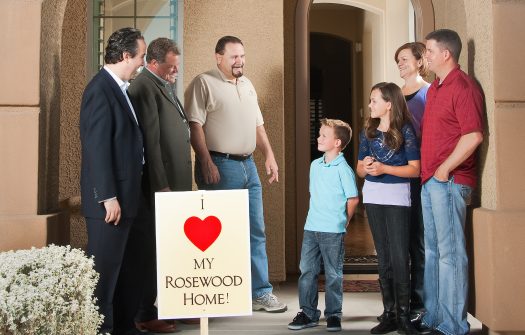 GOODYEAR, AZ (March 1, 2012) – Newland Communities is pleased to announce for the third consecutive year, Rosewood Homes, one of Estrella's most respected home builders, has earned the Eliant "Homebuyers' Choice Award" for providing the "Best Overall Purchase & Ownership Experience" in North America.
The 15th annual competition by Eliant, a customer experience management company, surveyed more than 68,000 recent home owners across the U.S. and Canada to find the best homebuilders in North America.
"The Rosewood Homes team is proud to once again be recognized with Eliant's top honor by having the highest overall customer satisfaction score in North America," said David M. Kitnick, Rosewood Homes Founder and President. Rosewood beat out more than 200 builders representing in excess of 1,500 new home neighborhoods to be honored with this award.
Residents of Stone Gate, a Rosewood Homes neighborhood found within Montecito at Estrella, were thrilled to hear about the award. To show their neighborhood pride for the well-earned recognition, each Stone Gate resident at Estrella has placed an "I ♥ My Rosewood Home" sign in their front yard.
"In my 26 years of being in the homebuilding business, I have never seen anything like this," said Mr. Kitnick. "I am truly honored by this gesture. It further solidifies our commitment to how we build homes."
Karl and Kari Swope moved into their home at Estrella 2 years ago and love everything about their Rosewood Home and the Estrella neighborhood.  Their two children attend Westar Elementary within Estrella and as a family they love to visit with neighbors and stay active outdoors on the trails at the parks or on the lake at Estrella.
"When we first found Estrella we were thrilled to find a community with so much to offer –  from the variety of amenities to the schools – but to also find a builder like Rosewood Homes cemented our decision to buy at Estrella" said Mrs. Swope. "The experience of building our home was outstanding in every way. Between the generous standard features, superior construction quality and outstanding customer service, we simply love our Rosewood Home and our neighborhood."
In the 15 years of the Eliant award no other Arizona home builder has received Eliant's #1 ranking, let alone three consecutive years.
"We are proud to have the caliber of Rosewood Homes as a builder in Estrella," said Greg Bielli, Western Regional President for Newland Communities. "David is a customer-centric builder and builds each home with careful attention to detail, listening to every unique need of his buyers."
In addition to the top award, Rosewood Homes has been recognized by homeowners for providing the "Best Construction Experience," the "Best Customer Service Experience," and for having the "Best Overall First Year Quality" in North America.
The Stone Gate neighborhood in Montecito at Estrella by Rosewood Homes offers luxury homes priced from the low $200's. Stone Gate homes range from 2,481 to 3,615 square feet with gourmet kitchens, luxurious master baths, courtyards, porches, private loggias, guest casitas and three car garages. This exclusive neighborhood is nestled in the heart of Estrella with parks, trails, top rated K-12 schools and the picturesque Sierra Estrella Mountains close by.
For more information on Rosewood Homes at Estrella please call 623-925-8999, for information about Estrella, please visit www.estrella.com or call 623-386-1000. See what is happening in the community each week on Facebook, www.facebook.com/EstrellaAZLife and Twitter, @EstrellaAZLife.com.
About Rosewood Homes
David M. Kitnick, a second generation contractor, grew up in the homebuilding industry and has built thousands of award-winning, environmentally sensitive and energy efficient homes since 1986. Over the past 25-years, he and his team have earned some of homebuilding's most prestigious honors including "Best Affordable Single Family Detached Home in America" by the National Association of Home Builders (NAHB), "Builder of the Year" by the Home Builders Association of Central Arizona (HBACA) including earning the coveted "Grand Award" as well as the "Small Volume Builder of the Year Award." For more information about Rosewood Homes, please visit www.rosewoodhomes.com.
About Newland Real Estate Group, LLC.
Estrella's developer, Newland Real Estate Group, LLC, is a diversified real estate company leveraging a national platform and over 40 years of experience to perform challenging and diverse development, investment, management, and advisory services across a wide range of real estate. The company's mixed-use development business, Newland Communities, actively owns, operates and develops premier residential master-planned, commercial, retail, and urban mixed-use real estate across the U.S. Headquartered in San Diego, Calif., Newland and its affiliated companies have completed, or have underway, more than 140 diverse real estate developments, more than 20 million square feet of commercial and retail space, and 175,000 residential units in 14 states.
About Estrella by Newland Communities
Estrella provides a lakeside oasis nestled in the Sierra Estrella Mountains, approximately 17 miles from downtown Phoenix on Estrella Parkway in Goodyear, in the Sonoran Desert Valley. Estrella currently offers more than 500 acres of parks and open space including 72 acres of lakes for boating and fishing, the Starpointe Residents Club, hiking trails, basketball, volleyball and tennis courts. Estrella is also home to a Nicklaus-design championship golf course. The land use plan for Estrella calls for approximately 50,000 homes, about 1,600 acres of commercial and a build-out of approximately 25 years (approximately 2032). For more information, please visit www.estrella.com.