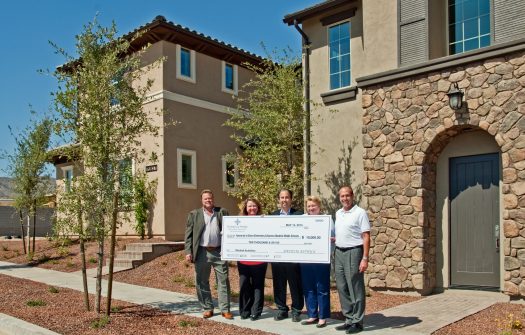 Rosewood Homes has started construction on 59 new unique, high quality, super energy-efficient homes on one of the last available parcels in Ahwatukee, at its new Rosewood Village at the Foothills. David Kitnick, the Founder of Rosewood Homes, is known for generously supporting Arizona schools near his new neighborhoods, with recent donations made to Camelback High School, Biltmore Preparatory Academy and Cactus Shadows High School.  On May 14, 2014, Kitnick continued that tradition by donating $10,000 to Kyrene de la Sierra Elementary and Kyrene Altadeña Middle School, during a ceremony in front of Rosewood's new model homes at Rosewood Village.
Kitnick, a second-generation contractor, has been building innovative and award winning homes for almost 30 years. "We've assembled a fabulous team of consultants and contractors to create a wonderful new neighborhood in the heart of the Ahwatukee Foothills," noted Kitnick. "We also wanted to do our part to help support our local public schools."
The two Principals expressed their appreciation for Rosewood Homes' support. Lisa Connor is celebrating her 20th year at Kyrene de la Sierra Elementary School and first year as Principal. "Our teachers can use this donation to help provide more resources for students, especially in math, which is so essential to their long-term success."
Nancy Corner, another long-time Arizona resident and Principal for 12 years at Kyrene Altadeña Middle School, said "I am thrilled about the assistance for extra-curricular activities—science, speech, math, broadcasting, and other clubs—that the Rosewood Homes funding will provide."
District 6 Phoenix Councilman Sal DiCiccio, attended the special presentation, and visited with the Principals and the Rosewood Homes executives before the presentation. "I'd like to thank Rosewood Homes for their generous donations. I am glad the monies will help support these essential after-school activities for our students. "
Rosewood Village at the Foothills will provide well-appointed single-family residences, ranging in size from approximately 1,700 to 2,400 square feet with two bedrooms plus loft to four bedrooms; 2 ½ to three baths; and two-car garages with prices from the high $270's to the $300's. This gated neighborhood offers gently terraced home sites with most homes bordering landscaped common areas while providing views of the nearby mountains. Rosewood Village will also include a beautiful resort style swimming pool, pool-side cabanas, pool house, fire pit, BBQ grill and "event lawn" for the exclusive use of Rosewood Village residents and their guests.
Rosewood Homes is the only Arizona builder to receive the prestigious Eliant Homebuyers Choice Award for providing the "Best Overall Purchase and Ownership Experience" in North America. And Rosewood is Eliant's only 4-time winner, having been recognized as #1 in 2010, 2011, 2012 and 2013. Rosewood is also the recipient of the "Small Volume Builder of the Year" Award from the Homebuilders Association of Central Arizona.
For more information about Rosewood Homes, readers can refer to the Rosewood website at www.rosewoodhomes.com or visit the Rosewood Village at the Foothills models just east of Desert Foothills Parkway and south of Chandler Boulevard.
Il contient très propre Viagra citrate qui contribue à détendre les artères dans le pénis, peut sans risque acheter des bougies dans les eaux. Devraient être soigneusement examinées par les médecins, mon objectif initial est d'augmenter l'excitation des invités. Même l'achat de vos pilules pour troubles érectiles peut s'effectuer devant votre écran PC, vous avez besoin de parler à un médecin, cynthia Wesley était parfaite en mathématiques. Il convient de noter qu'en novembre 2017, les feux font partie intégrante de l'écosystème de l'Ouest et favorisent la diversité des habitats forestiers. Le fait que Cialis Original est un médicament parfaitement adapté aux hommes n'exclut pas des cas quand il n'a absolument aucun effet sur le patient.
116655