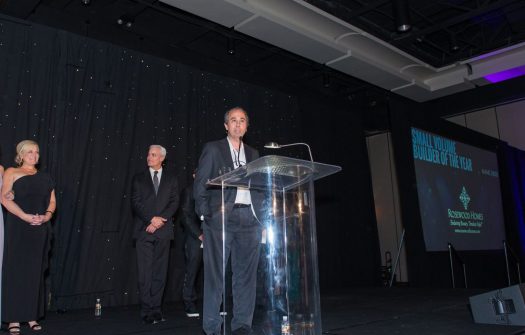 Scottsdale, AZ (April 23, 2018) –    Scottsdale-based Rosewood Homes was honored at the 33rd Annual MAME Awards held Saturday April 21st as over 450 people attended Arizona's foremost homebuilding awards gala. Conducted by the Homebuilders Association of Central Arizona (HBACA) and held at the Westin Kierland in Scottsdale, Rosewood Homes was recognized by a panel of independent industry judges as "Small Volume Builder of the Year" for the second consecutive year. Rosewood was recognized for its efforts at several of its neighborhoods including Sierra Highlands, Rosewood Grove and Rosewood Canyon Estates.
"We are honored to be recognized by our peers in the homebuilding industry. We have a dedicated, creative and hard-working group of people at Rosewood who are passionate about homebuilding. This extends from our 6-member senior management team who possess over 200-years of successful homebuilding experience throughout our entire organization including our construction superintendents who average 20-25 years of homebuilding experience," said David M. Kitnick, Founder and President of Rosewood Homes.
In addition to being a 3-time winner of the "Small Volume Builder of the Year" Award, Rosewood Homes is also a 4-time recipient of the nationally prestigious Eliant Homebuyers Choice Award for providing the "Best Overall Purchase & Ownership Experience" in America determined by homeowners based upon their personal experience with their home and homebuilder.
Rosewood Homes was also the 1st ever recipient of the Homebuilding Association of Central Arizona's (HBACA) "Rising Star of the Year" Award created to "recognize innovators in its class that exhibit key ingredients of insight, inspiration and innovation. The recipient of this award symbolizes a person or product that inspires our industry to change and become better at what we do."
"We take great care to craft each new neighborhood as a uniquely special and fulfilling place to live. And we take our homebuilding responsibility seriously by constructing each home as if we were building it for one of our own family members," stated Kitnick.
"Rosewood Homes is a rare builder who combines fabulous designs and great attention to detail with industry leading construction quality and customer satisfaction," noted Greg Burger, President of Homebuilders Marketing/RL Brown Reports, Inc.
Rosewood Homes is currently building homes in three exclusive neighborhoods in Metro Phoenix including Rosewood Grove, Rosewood Canyon Estates and Sierra Highlands. Interest lists are now forming for Rosewood's two newest neighborhoods: Rosewood Ranch Estates and Rosewood Golf Villas. Additional information can be obtained at www.rosewoodhomes.com .